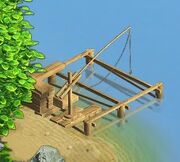 "Build a Pier to open a new island."
The Pier is found in the top of the gaming area, already in place. When you click on it, the construction for 'To Love Island' appears.
Stage 1 of 2
Edit
For Stage 1 you will need
It gives 300 XP.
Stage 2 of 2
Edit
For Stage 2 you will need
It gives 500 XP.
To Love Island - Finished
Edit
Having build the Pier you can now travel to Love Island
You get the achievement 'In search for Love', which gives you a brain for rent for 24 hours.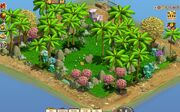 This island contains a further two piers, one for
Mayan Island
and one for
Island X
.
There are trees and palms for the Lumberjacks making Wood and Palm Logs.
For the Stonecutters there are Marble, White Marble and regular Stones.
Ad blocker interference detected!
Wikia is a free-to-use site that makes money from advertising. We have a modified experience for viewers using ad blockers

Wikia is not accessible if you've made further modifications. Remove the custom ad blocker rule(s) and the page will load as expected.