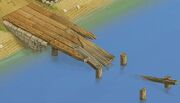 "Build a Bridge for the tourists."
The Bridge is located on the mid souther side of the Home Island. It is free, and can be build as soon as you have the materials.
Bridge - Stage 1 of 1
Edit
To build this stage you wil need
Bridge Finished
Edit
Once you have completed the Bridge, the tourists will start to arrive. They drive in cars from the tunnel to the Bridge. Sometimes they loose their luggage, which you can pick up as a treasure.
They drop luggage every 3 hours.
Ad blocker interference detected!
Wikia is a free-to-use site that makes money from advertising. We have a modified experience for viewers using ad blockers

Wikia is not accessible if you've made further modifications. Remove the custom ad blocker rule(s) and the page will load as expected.